A candy theme party is sugar and spice and everything nice! Here are some of our favorite ideas to help you host an event that is as sweet as can be.
Candy Themed Invitations
Lollipop Invitations — A fun way to invite your guests to a candy party is by using, what else, candy! Get a large, colorful lollipop
for each of your invitees, and tie a small card with your party information to the stick with a piece of bright ribbon. If you are not hand-delivering these invitations, be sure to send them in padded envelopes. Your guests will get a treat before the party even starts!





Chocolate Bar Invitations — Another way to make a candy invitation is by using your computer to create personalized wrappers for chocolate bars
(or any candy that you like). Write out your party's information, glue your labels to the candy, and send them off!
If you choose to send a more traditional style of card, check out your local craft store for some fun scrapbooking paper with a candy themed border. Then print your information in candy colors of pink, orange, lime, turquoise, etc.
**General Invitation Tips** — If you choose to make your own invitations, don't forget to include the date, location, and time of your party. It is also helpful to put the host's name, RSVP by date, and either your phone number or email.





You can always find lots of great online party invitations with a free RSVP manager at Evite
,
or
Here are a few more fun invitations that would be perfect for a candy themed party:
Candy Party Supplies and Decoration Ideas
It's easy to decorate for a candy theme party if you think COLOR. Turn your party venue into a virtual candy shop by using pink, orange, turquoise, lime, purple, yellow, and brown. Use color in your table settings, in your balloons and streamers, and anywhere and everywhere you can think of! Here are a few more ideas:
A Candy Shop Buffet — Fill different size glass containers or candy dispensers with colorful bulk candies to make a candy buffet that serves as both an awesome decoration and a great party favor for your guests. If you put small takeout boxes and scoops at the ends of your table, your guests can fill a box to take home with their favorite sugary treats!
Candy Napkin Rings — At each place setting, use candy to for a colorful way to hold your napkins. One way to do this is to use candy necklaces. Another way is to tie your napkins with bright ribbon and stick a lollipop
through the center of each bow.
Rainbow Drinks — Use different colored juice, soda, and punch and set it out in glass pitchers or tumblers to create a rainbow of drinks at your table.
Gingerbread Houses — If your party is in the winter, you can use a gingerbread house for a colorful edible centerpiece.
Here are some party supplies that would go well with a candy party theme:
Gumdrop Topiary Centerpieces — Here is how to make a gumdrop topiary:
Anchor a dowel rod in a pot with gravel to form a base (or even better, use plaster and let it sit over night to create a reusable base).
If you choose, use spray paint to cover your base in your party's colors.
Stick a styrofoam ball on top of the dowel rod (Use a smaller form than you would expect since it will get bigger when you add the gumdrops).
Break wooden toothpicks in half to use in attaching the gumdrops to the foam ball.
Attach multicolored gumdrops to the styrofoam form with the toothpick halves.
Tie a colorful ribbon around the stem of your topiary.
Candy Party Activities
Here are a few of our favorite candy theme party activities:
Piñata
— What candy party would be complete without the ultimate candy activity?!
Decorating cookies — Put our a variety of colored frosting and candies and let your guests decorate their own cookie.
Candyland
— Set out one or two of these games as an ice-breaker activity for your guests.
Twister
— Okay, this isn't technically candy related, but it is fun and the board looks like a big piece of dot candy!
Candy Party Favors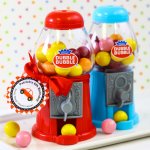 Mini gumball machines make an adorable party favor

Takeout boxes filled with bulk candy from a candy buffet
Candy Jewelry such as ring pops, candy necklaces, and wax lips
Personalized Candy Mint Tins
Personalized Glass Candy Jars — Print your own labels and add them to mason jars with a ribbon wrapped around the neck
Hope you found some useful candy party ideas on this page. Hope your next party is sweet!
If you enjoyed these candy theme party ideas, you might also enjoy these parties, or follow us on Pinterest!
Follow Creative Party Themes's board Party Themes for Girls on Pinterest.